Registration for the Jönköping Marathon & Half Marathon
| | |
| --- | --- |
| Date: | 31. august 2024 |
| Time: | 10:00 |
| Location: | Spira (Expo), Munksjöbron (Start/Finish) |
| Time limit: | 3 hours (Half Marathon), 6 hours (Marathon) |
| Price: | 695 SEK (Half Marathon), 845 SEK(Marathon) |
| Minimum age: | 17 år + |
| Hashtag: | #jönköpingmarathon #jönköpinghalfmarathon |
You can register up to 5 runners at the same time. To register more then 5 runners go to group registration. Read our terms before you register.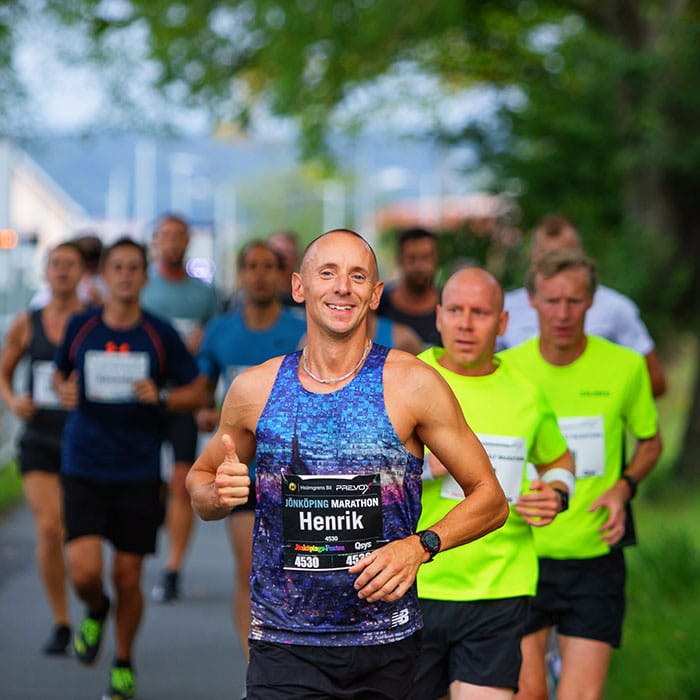 Registration fee includes
Energy and fluid stations along the track, water, sports drink (Enervit), pickles and bananas
Electronic timing with a chip (on the bib)
Finisher T-shirt
Finisher bag with plenty of goodies
Nice medal at the finish line
Running sessions where we try the track (2 sessions)
A training session with Team Runner's HIGH during the competition week. Preparatory session
Payment
The payment options: card payment, Swish (direct payment), invoice & partial payment.
Direct payment means immediate payment (within 5 minutes). After registration, you will receive a confirmation directly on the screen and via e-mail (if you do not receive this, feel free to check your spam or e.g. campaign folder if you have Gmail as your e-mail provider.
With the web invoice payment option: The invoice is visible directly on the screen after completed registration and is emailed directly to you automatically (keep an eye on your spam folder). Enter your order number as "message".
Cancellation
Registration is definitive and non-refundable (also applies when purchasing gift cards). We therefore recommend Startklar insurance The insurance applies to all Swedish long-distance races you sign up for and includes accident insurance for only SEK 155.
Name change/Transfer
Until August 9, 2024, you have the possibility to transfer your starting place to someone else for an administrative fee of 150 SEK that you pay to us. It is NOT permitted to transfer a starting place to someone else or let someone else run in your place, without paying the fee and reporting the transfer of your starting place via email.
To make a name change and pay the administration fee – click here
The registration fee must be paid within the specified time. Otherwise, a reminder with a fee will be sent out. In the case of unpaid reminder invoices, the case is forwarded to the bailiff.
Jönköping Marathon refers to the Distance Shopping Act :
§ 3 The provisions on the obligation to provide information in § 7 and on the right of withdrawal in §§ 9-16 do not apply to distance contracts where the trader on a fixed day or during a fixed period of time must provide
1. accommodation
2. transport
3. serving, catering or any other similar service, or
4. cultural event, sporting event or any other similar leisure activity
This means that once the notification/payment is made, the notification is binding.
Change of distance
Only possible until July 26, 2024. Administration fee is charged.
Change from marathon to half marathon
Change from half marathon to marathon
Approval of publication of personal data
With your registration, you agree that your name, hometown, association/company, start number, year of birth, photos from the race, start time and meals are published on the internet or in other media.